Cetya has developed analogs of largazole for evaluation in a multitude of therapeutic indications. The largazole scaffold lends itself to further modification to develop optimized analogs suited to a particular clinical indication. Cetya has chosen CT-101 as its lead candidate for treatment of the genetic disorder sickle cell disease (SCD).
Coordinating DNA expression is an essential process for all living systems. The cell's ability to execute the programs of life and death by regulating gene expression is controlled by complex interactions between signal transduction pathways, transcription factors, and modular protein regulatory complexes. The nucleosome is the fundamental unit of chromatin and is composed of 146 base pairs of DNA wrapped around an octamer of histone proteins (2 each of histone proteins H2A, H2B, H3, and H4).
Histones are modified in different ways, and one of the most studied set of modifications is the pattern of acetylation/deacetylation (see figure). Histone acetylation adds an acetyl moiety to the ε-amino group of the lysine tails on the histone protein. This modification is highly dynamic and is accomplished by a set of enzymes called histone acetyltransferases (HATs).
HATs are generally understood to alter chromatin structure by masking the positive charge of key lysine amino acid residues in the "tail" region of the histone proteins, thereby reducing the electrostatic interaction between the histone tail and the negatively charged DNA backbone. The process of histone acetylation creates an open chromatin structure that is associated with transcriptionally active DNA. HATs, including well-known family members p300/CBP, MOZ, and SRC, are transcriptional co-activators found in large multi-protein regulatory complexes that are recruited to promoter regions of target genes by transcription factors bound directly to the DNA.
The reverse process of acetyl group removal, or deacetylation, is accomplished by histone deacetylases (HDACs). The activity of HDAC enzymes is the reverse of HATs and creates transcriptionally quiescent regions of chromatin. The gene regulatory functions of HATs and HDACs are shown schematically in the figure below1.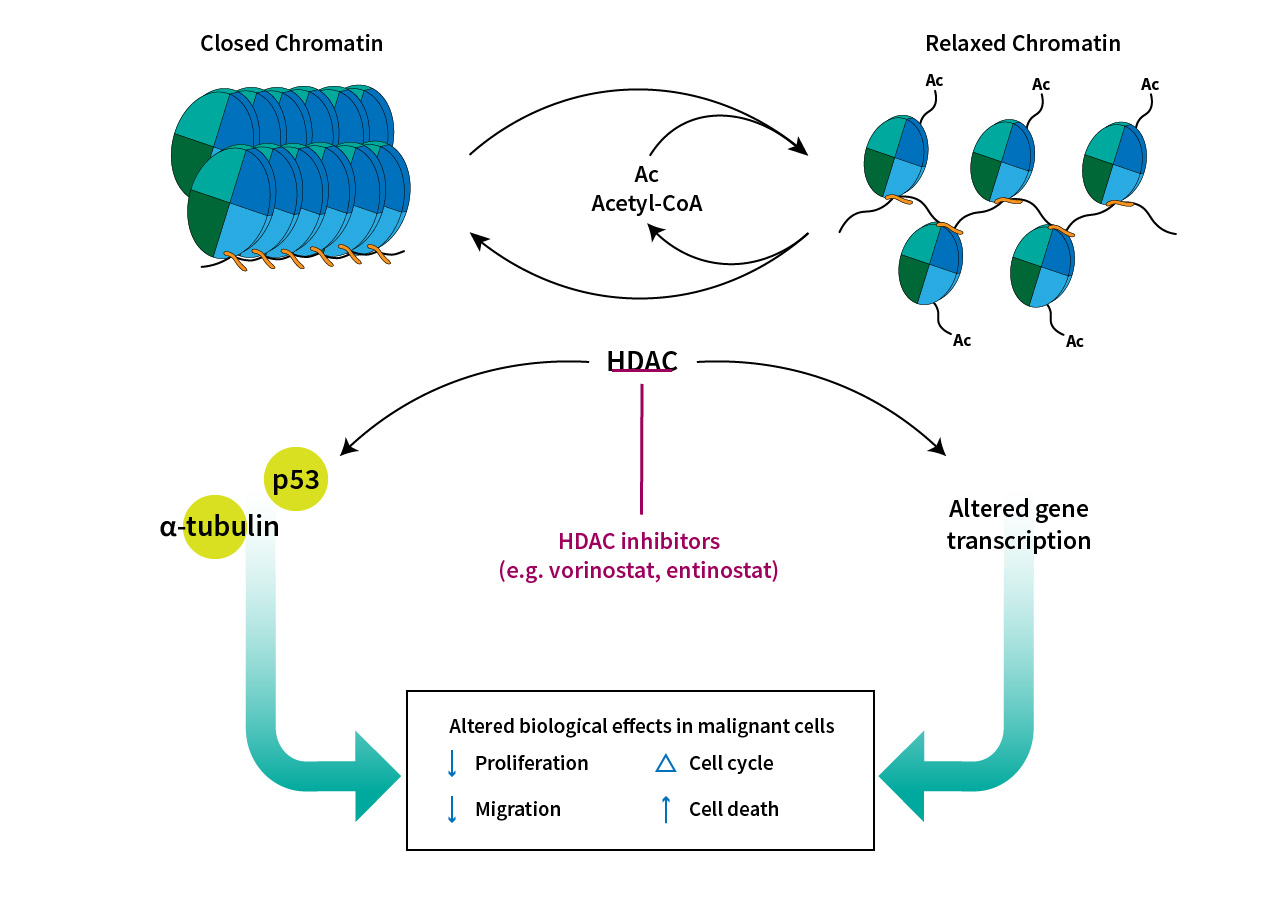 The basis of Cetya's proprietary HDAC inhibitor (HDACi) platform is the scaffold of the natural product largazole. The macrocycle scaffold is uniquely suited to exploit the differences in sequence and charges on the surface of HDACs. The rigid scaffold binds tightly to the HDAC surface and orients functional groups in well-defined positions. To date, over 30 analogs have been synthesized with potent class I HDAC inhibition and targeting capabilities.
Cetya's co-founder Dr. Robert Williams and his group at Colorado State University have completed iterative synthesis, computational modeling, and bioassay verification to generate novel, highly potent, and class-selective HDAC inhibitors. Our approach to generating these inhibitors relies on various insights, including:
Detailed x-ray structure analysis
Structure activity relationship (SAR)
HDAC sequence alignments
Homology models
This rational drug design strategy combines the power of computational SAR modeling and modular chemistry approaches, leading to the successful synthesis of low nanomolar potentcy class I HDAC inhibitors.
Further extension of the platform has been achieved by creating a series of largazole analogs that have isosteric (O to N) replacement of the relatively labile depsipeptide linkage found in largazole and romidepsin to create a peptide linkage closing the macrocycle. The hypothesis for this lead optimization strategy is well-founded and coule potentially improve metabolic and hydrolytic stability of drug candidates. CT-101 is an example of such a structural modification. We believe the improved stability of the amide linkage in low-pH environments will enhance the bioavailability of the compound when dosed orally.
Early proof-of-concept results demonstrate that this lead optimization strategy has improved pharmacokinetic profiles relative to largazole as well as enhanced the class I selectivity window approximately ten fold relative to the parent compound.